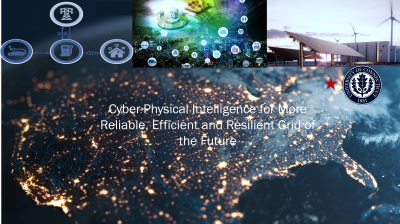 About CISGRL
Cyber-Physical Intelligence for Smart Grid Resiliency Lab (CISGRL) is part of the Eversource Energy Center and Department of Electrical and Computer Engineering at the University of Connecticut (UConn).
Our missions are to develop the next generation of cyber-physical intelligence for grid digitalization, electrification, and decarbonization via collaborations with partner universities, the power industry, and national labs. Our research interests include cyber-physical power system modeling, monitoring, renewable energy integration, uncertainty quantification, learning, dynamics, stability control, and cyber security with DERs. CISGRL is currently funded by a multitude of projects from the National Science Foundation, the Department of Energy, National Laboratories, and Eversource Energy.
About UConn: UConn is a flagship university that is frequently ranked as a top-20 public R1 research university in the US and tied for 63rd best national university in the 2021 U.S. News & World Report rankings. The university has been recognized as a Public Ivy.
Openings: We are always looking for talented Ph.D. students with full scholarships. Visiting professors/scholars and students are also welcome. Self- or government-funded students with research skills and established academic performance are highly encouraged to apply. Please refer to here if you are interested in working with us.
10/2021 Dr. Zhao has been listed as

2021 World's Top 2% Scientists in both Single-Year and Career tracks

with a rank of 50056 released by Stanford University, see more details

here

.

09/2021 Our paper "Deep Reinforcement Learning Enabled Physical-Model-Free Two-Timescale Voltage Control Method for Active Distribution Systems" has been accepted to IEEE Trans. Smart Grid.

08/2021 Our paper "Reinforcement Learning and its Applications in Modern Power and Energy Systems: A Review" has been selected as the

2020 Best Journal Paper Award

by the Journal of Modern Power Systems and Clean Energy (Impact Factor 3.265). Congrats to Di Cao!

08/2021 Dr. Zhao received the

2020 Excellent Associate Editor Award

from the Journal of Modern Power Systems and Clean Energy.

07/2021 Ketian's paper received the

IEEE IAS I&CPS ASIA 2021-Best Student Paper Award

! Congrats!

07/2021 Bendong's first journal paper on "Power System Inertia Estimation: Review of Methods and the Impacts of Converter-Interfaced Generations," has been accepted to the

International Journal of Electrical Power & Energy Systems

.

06/2021 New

Department of Energy project

with my colleague Dr. Zhenhua Tian (PI).

06/2021 Featured on

MSU maroon memo

about 2020 IEEE PES Outstanding Engineer Award.

06/2021 Dr. Zhao received the

2021IEEE PES Outstanding Volunteer Award

for dedicated volunteer service to promote activities, increase visibility and number of members, and educate the next generation of power engineering students

.

05/2021 Ketian started his summer intern at National Renewable Energy Lab on Uncertainty Quantification and Probabilistic Net-Load Forecasting.

05/2021 Ketian's second paper "

Global Sensitivity Analysis of Large Distribution System with PVs using Deep Gaussian Process

" is accepted to IEEE Trans. Power Systems.

05/2021 New accepted paper "Robust Deep Gaussian Process Probabilistic Electrical Load Forecasting Method Under Anomalous Conditions" on IEEE Trans. Industrial Informatics.

05/2021 New accepted paper "A Novel Non-Uniform Frame Structure Model for Power System Disturbance Propagation Analysis" on IEEE Trans. Power Systems.

05/2021 IEEE TF paper "

Dynamic State Estimation for Power System Control and Protection

" has been accepted to IEEE Trans. Power Systems.

04/2021 Bi Liu's paper "Robust Nonlinear Controller for Wind Turbine Generator Drivetrain Torsional Oscillation under Large Disturbances" received the

Best Conference Paper Award

at IEEE PES General Meeting 2021, the flagship conference in the power and energy field. Great work, Bi!

04/2021 Ph.D. student Ketian Ye's paper "Data-driven Global Sensitivity Analysis of Three-Phase Distribution System with PVs" received the

Best Conference Paper Award

at IEEE PES General Meeting 2021, the flagship conference in the power and energy field. Great work, Ketian!

04/2021 Dr. Zhao received the

Young Scientist Award

at 2021

International Conference on Energy, Electrical and Power Engineering

sponsored by IEEE and IEEE PES.

04/2021 Dr. Zhao has been listed as

2020 World's Top 2% Scientists

with a rank of 65042 released by Stanford University, see more details

here

.

04/2021 Two papers accepted to IEEE Trans. Industrial Informatics.

03/2021 IEEE TF Paper "

Power System Dynamic State Estimation: Motivations, Definitions, Methodologies and Future Work

" has been listed as a

Highly Cited Paper

according to Web of Science. We have 4 highly cited papers in total.

03/2021 Ketian's first paper "

A Data-Driven Global Sensitivity Analysis Framework for Three-Phase Distribution System with PVs

" has been accepted to IEEE Trans. Power Systems. Great job!

03/2021 New project "

Data-Driven Decision Making under Uncertainties with High Share of Variable Distributed Energy Resources

" funded by the US Department of Energy and Lawrence Livermore National Laboratory under the AGM program.

03/2021 Project "

Modeling and Analytics for WI Near Term Resilience and Reliability

," has been funded by the US Department of Energy and National Renewable Energy Lab under the GLMC program.

03/2021 Dr. Zhao received the Research Excellence Award from the ECE department at MSU.

02/2021 Dr. Zhao joined

IEEE PES Renewable Systems Integration Coordinating Committee

as the webmaster. Looking forward to your contributions.

02/2021 Paper "Surrogate Model Enabled Deep Reinforcement Learning for Hybrid Energy Community Operation" is accepted to Applied Energy. Congrats to Xiaodi.

02/2021 Paper "A Novel Deep Reinforcement Learning Enabled Multi-band PSS for Multi-Mode Oscillation Control" is accepted to IEEE Transactions on Power Systems. Congrats on the great work by Guozhou!

02/2021 We have 6 papers accepted to IEEE Power and Energy Society General Meeting, 2021. Congrats to my students and collaborators.

02/2021 We have a new IEEE Task Force on State Estimation for Integrated Energy Systems under

IEEE PES Energy Internet Coordinating Committee

(EICC). If you are interested in this TF, please do not hesitate to contact me.

02/2021 You're welcome to contribute technical articles and newsletters for the

IEEE Technical Committee on Cyber-Physical Systems

.

02/2021 Dr. Zhao received the 2020

IEEE PES Outstanding Engineer Award

.

02/2021 Dr. Zhao is appointed as the Chair of IEEE PES Mississippi Chapter.

02/2021 Paper "Data-Driven Resilient Automatic Generation Control Against False Data Injection Attacks" is accepted to IEEE Transactions on Industrial Informatics. Congrats to Chunyu.

01/2021 Paper "Hybrid Deep Learning for Dynamic Total Transfer Capability Control" is accepted to IEEE Transactions on Power Systems.

01/2021 Paper "Attention Enabled Multi-agent DRL for Decentralized Volt-VAR Control of Active Distribution System Using PV Inverters and SVCs," is accepted to IEEE Trans. Sustainable Energy.

01/2021 Paper "Data-Driven Subsynchronous Oscillation Identification Using Field Synchrophasor Measurements," is accepted to IEEE Transactions on Power Delivery.

We have used a large amount of field PMU data for this effort and believe it provides a lot of industry insights. Enjoy your reading [

here

]!

01/2021 Paper "Nonlinear Virtual Inertia Control of WTGs for Enhancing Primary Frequency Response and Suppressing Drivetrain Torsional Oscillations," is accepted to IEEE Transactions on Power Systems.

12/2020 Paper "Robust Nonlinear Controller to Damp Drivetrain Torsional Oscillation of Wind Turbine Generators," is accepted to IEEE Transactions on Sustainable Energy.

12/2020 Dr. Zhao received the

Best Associate Editor Award

from IEEE Transactions on Smart Grid.

12/2020 Four IEEE Transactions papers accepted for publications. Congrats to my collaborators.

12/2020 Dr. Zhao is appointed as the Chair of Education Committee at

IEEE Mississippi Chapter

.

12/2020 New IEEE TF "

Risk Mitigation for Bulk Power System Operation

" organized by Dr. Hong Chen, Dr. Masood Parvania and Dr. Junbo Zhao has been approved under IEEE PES Power System Operation, Planning and Economics Committee.

Please contact me if you are interested in joining in with us

.

12/2020 Dr. Zhao's Presentation "AI for Cyber-Physical Power System Operation and Control with DERs," to IEEE Worcester and Springfield Chapters.

11/2020 Our proposal "

Reorg: Resilience and Stability Oriented Cellular Grid Formation and Optimization for Communities with Solar PVs and Mobile Energy Storages

" has been recommended for funding under the Department of Energy. Congrats to the team!

10/2020

IEEE Transactions on Power Systems and TF on Dynamic State and Parameter Estimation will co-organize a webinar on "

Dynamic State and Parameter Estimation for Power System Monitoring, Modeling, Operation, Control and Protection

"

on 11:00 AM-1:30 PM ET, November 6, 2020. Please register them using [

link 1

] and [

link 2

]. Both links need to be registered.

10/2020 Ketian Ye has obtained the travel grant from the College of Engineering for attending NAPS 2021. Congrats!

09/2020 Our TF paper "

Roles of Dynamic State Estimation in Power System Modeling, Monitoring and Operation

"

has been accepted for publication in IEEE Transactions on Power Systems. This is another milestone of the TF on Power System Dynamic State and Parameter Estimation.

09/2020 Dr. Zhao is appointed as the Associate Editor of

Journal of Modern Power System and Clean Energy

. Welcome to your submissions.

08/2020 Our paper "An Analytical Method for Disturbance Propagation Investigation based on the Electromechanical Wave Approach"

has been accepted for publication in IEEE Transactions on Power Systems.

08/2020 Our paper "Real-time LCC-HVDC Maximum Emergency Power Capacity Estimation Based on Local PMUs"

has been accepted for publication in IEEE Transactions on Power Systems. Congrats, Long!

07/2020 Our paper "A Planning-oriented Resilience Assessment Framework for Transmission Systems under Typhoon Disasters"

has been accepted for publication in IEEE Transactions on Smart Grid.

06/2020 Our paper "

Robust Adaptive Decentralized Dynamic State Estimation with Unknown Control Inputs using Field PMU Measurements

" has been nominated as one of the

best paper for the flagship IEEE Power and Engineering Society General Meeting

, 2020

.

06/2020 Welcome your submissions to "

12th Asia-Pacific Power and Energy Engineering Conference (APPEEC 2020)

"

06/2020 Paper "

Data-driven Optimal Power Flow: A Physics-Informed Machine Learning Approach

" has been accepted for publication in IEEE Transactions on Power Systems.

05/2020 Paper "

A Multi-agent Deep Reinforcement Learning Based Voltage Regulation using Coordinated PV Inverters

" has been accepted for publication in IEEE Transactions on Power Systems.

05/2020 Paper "

A Novel Hybrid Short-Term Load Forecasting Method of Smart Grid Using MLR and LSTM Neural Network

" has been accepted for publication in IEEE Transactions on Industrial Informatics.

03/2020 Dr. Zhao received the best reviewer recognition from IEEE Transactions on Power Systems.

03/2020 Paper "Application of Detectability Analysis for Power System Dynamic State Estimation" has been accepted for publication in IEEE Transactions on Power Systems.

03/2020 Proposal "

Load Sculptor

"

with Lawrence Livermore National Laboratory has been funded by DOE.

03/2020 Proposal "

Cascading failure discovery with electromechanical wave" with Argonne National Laboratory has been funded by DOE

.

02/2020 Two papers for International Journal of Electric Power and Energy Systems have been accepted.

02/2020 Proposal "

Grid Data Integration Development and Demonstration" has been funded by DOE Lawrence Livermore National Laboratory .

1/23/2020 Dr. Zhao has been appointed as the Editor of IEEE Transactions on Smart Grid.

1/10/2020 Our paper "Coherency Identification for Wind-Integrated Power System using Virtual Synchronous Motion Equation" has been accepted to IEEE Transactions on Power Systems.

1/10/2020 Dr. Zhao has been appointed as the Editor of IEEE Transactions on Power Systems and IEEE Power and Engineering Letters.

12/2019 New IEEE TF on Cyber-Physical Interdependence for Power System Operation and Control has been approved. Dr. Zhao is the chair. If you are interested in making contributions, please send me an email.

12/2019 Dr. Zhao received the Best Reviewer Award from IEEE Transactions on Smart Grid.

11/2019 Dr. Zhao has been elevated to IEEE Senior Member.

11/2019 New IEEE TF on Evaluation of Distribution System State Estimation Performance has been approved. Jens and I will serve as the chairs. If you are interested in making contributions, please send me an email.

11/2019 Our paper "Correlation-Aided Robust Decentralized Dynamic State Estimation of Power Systems with Unknown Control Inputs" has been accepted to IEEE Trans. Power System.

11/2019

Two DOE AGM proposals have been recommended for funding. Congrats to the team!

10/2019 Submitted two large DOE grants and best luck to our teams!

10/2019 Our paper "A Computational Attractive Interval Power Flow Approach with Correlated Uncertain Power Injections" has been accepted to IEEE Trans. Power System. Congrats, Liu!

10/2019 Our paper "Distribution-level Robust Energy Management of Power Systems Considering Bidirectional Interactions with Gas Systems" has been accepted to IEEE Trans. Smart Grid.

10/2019 We have three papers listed as

Highly Cited Paper

according to Web of Science.

10/2019 Our paper "Robust Ensemble Kalman Filter for Medium Voltage Distribution System State Estimation" has been accepted to IEEE Transactions on Instrumentation and Measurement.

10/2019 Our paper "A Dynamic Wavelet-based Robust Wind Power Smoothing Approach Using Hybrid Energy Storage System" has been accepted to International Journal of Electrical Power & Energy Systems.

09/2019 Welcome Ketian Ye to join our team as a Ph.D. student.

08/2019

Our proposal to DOE/PNNL has been funded. Congrats to the team!

07/2019 Our paper "Robust Unscented Kalman Filter for Power System Dynamic State Estimation with Unknown Noise Statistics" has been listed as the

Highly Cited Paper

according to Web of Science.

06/2019 Our paper "Unscented Kalman Filter-based Unbiased Minimum-Variance Estimation for Nonlinear Systems with Unknown Inputs" has been accepted to IEEE Signal Processing Letters.

06/2019

Our NSF proposal has been recommended for funding. Congrats to the team

!

05/2019 Our two papers "A Robust Iterated Extended Kalman Filter for Power System Dynamic State Estimation" and "Fault Diagnosis of Electric Power Systems Based on Fuzzy Reasoning Spiking Neural P Systems" have been listed as the

Highly Cited Paper

according to Web of Science.

04/2019 Our paper "Constrained Robust Unscented Kalman Filter for Generalized Dynamic State Estimation" has been accepted to IEEE Transactions on Power Systems.

03/2019 Our paper "A Theoretical Framework of Robust H-infinity Unscented Kalman Filter and Its Application to Power System Dynamic State Estimation" has been accepted to IEEE Transactions on Signal Processing.

02/2019 Our paper "Probabilistic Power Flow Calculation and Variance Analysis based on Hierarchical Adaptive Polynomial Chaos-ANOVA Method" has been accepted to IEEE Transactions on Power Systems.

01/2019 Our IEEE TF paper "

Power System Dynamic State Estimation: Motivations, Definitions, Methodologies and Future Work

" has been accepted to IEEE Transactions on Power Systems.

This paper may serve as a milestone for power system state estimation

.

01/2019 Received the Best Reviewer Award from IEEE Transactions on Power Systems.

11/2018 Our paper "Robust Parameter Estimation of the French Power System Using Field Data" has been accepted to IEEE Transactions on Smart Grid.

9/2018 Our paper "A Decentralized H-infinity Unscented Kalman Filter for Dynamic State Estimation Against Uncertainties" has been accepted to IEEE Transactions on Smart Grid.

8/2018

Our proposal submitted to LLNL has been approved for funding!

8/2018 Our paper "Online TTC Estimation using Nonparametric Analytics Considering Wind Power Integration" has been accepted to IEEE Transactions on Power Systems.

6/2018 Our paper "Statistical and Numerical Robust State Estimator for Heavily Loaded Power Systems" has been accepted to IEEE Transactions on Power Systems.

5/2018 I have been appointed as the Associate Editor of

IET Generation, Transmission & Distribution

.

4/2018 I have been appointed as the Associate Editor of

International Journal of Electrical Power & Energy Systems

.

4/2018 Our paper "Vulnerability of the Largest Normalized Residual Statistical Test to Leverage Points" has been accepted to IEEE Transactions on Power Systems.

3/2018 Our paper "A Robust Generalized-Maximum Likelihood Unscented Kalman Filter for Power System Dynamic State Estimation" has been accepted to IEEE Journal of Selected Topics in Signal Processing.

2/2018 Our paper "A Generalized False Data Injection Attacks Against Power System Nonlinear State Estimator and Countermeasures" has been accepted to IEEE Transactions on Power Systems.

1/2018 Our paper "A Robust State Estimation Framework Considering Measurement Correlations and Imperfect Synchronization" has been accepted to IEEE Transactions on Power Systems.

12/2017 Our paper "Robust Frequency Divider for Power System Online Monitoring and Control" has been accepted to IEEE Transactions on Power Systems.

12/2017 Our paper "Power System Robust Decentralized Dynamic State Estimation Based on Multiple Hypothesis Testing" has been accepted to IEEE Transactions on Power Systems.

10/2017 Our paper "A Framework for Robust Hybrid State Estimation with Unknown Measurement Noise Statistics" has been accepted to IEEE Transactions on Industrial Informatics.

10/2017 Our paper "Assessing Gaussian Assumption of PMU Measurement Error Using Field Data" has been accepted to IEEE Transactions on Power Delivery.

10/2017 Our paper "A Novel Cascading Faults Graph Based Transmission Network Vulnerability Assessment Method" has been accepted to IEEE Transactions on Power Systems.

10/2017 Our paper "Calibrating Parameters of Power System Stability Models using Advanced Ensemble Kalman Filter" has been accepted to IEEE Transactions on Power Systems.

09/2017 Finished my three-month summer internship at the PNNL.

08/2017 Our paper "A Robust Iterated Extended Kalman Filter for Power System Dynamic State Estimation" is the top 6 most popular paper on August 2017 of the IEEE Transactions on Power Systems.

07/2017 Our paper "A Robust Iterated Extended Kalman Filter for Power System Dynamic State Estimation" is one of the most popular paper on July 2017 of the IEEE Transactions on Power Systems.

06/2017 Our proposal entitled "

Dynamic State and Parameter Estimation Based on Robust Unscented Kalman Filters for Power System Monitoring and Control

" has been funded by NSF [

link

].

05/2017 Gave a talk at PNNL about "Robust Power System Dynamic Paradigms Using Synchorphasor Measurements".

05/2017 Gave a talk at Dominion Virginia Power about "Robust Power System Dynamic State Estimation Using Synchorphasor Measurements".

03/2017 Our paper "Dynamic State Estimation with Model Uncertainties Using H-infinity Extended Kalman Filter" has been accepted to IEEE Transactions on Power Systems.

02/2017 Our paper "Power System Real-Time Monitoring by Using PMU-Based Robust State Estimation Method" is one of the most popular paper on January 2017 of the IEEE Transactions on Smart Grid.

01/2017 Our paper "Robust Dynamic State Estimator to Outliers and Cyber Attacks," has been accepted for presentation at the IEEE PES General Meeting, July 16-20, Chicago, 2017."

01/2017 Our paper "Power System Real-Time Monitoring by Using PMU-Based Robust State Estimation Method" is one of the most popular paper on December 2016 of the IEEE Trans. Smart Grid. [

link

]

11/2016 Our paper "Robust Time-Varying Load Modeling for Conservation Voltage Reduction Assessment" has been accepted to IEEE Transactions on Smart Grid. [

link

]

11/2016 Our paper "Enhanced Robustness of State Estimator to Bad Data Processing Through Multi-Innovation Analysis" has been accepted to IEEE Transactions on Industrail Informatics. [

link

]

11/2016 Our paper "A Robust Iterated Extended Kalman Filter for Power System Dynamic State Estimation" has been accepted to IEEE Transactions on Power Systems. [

link

]

10/2016 Our paper "Robust Forecasting Aided Power System State Estimation Considering State Correlations" has been accepted to IEEE Transactions on Smart Grid. [

link

]

09/2016 Our paper "A Robust Prony Method Against Synchrophasor Measurement Noise and Outliers" has been accepted to IEEE Transactions on Power Systems. [

link

]

08/2016 Our paper "Robust Detection of Cyber Attacks on State Estimators Using Phasor Measurements" has been accepted to IEEE Transactions on Power Systems. [

link

]

05/2016 Our paper "Robust Voltage Instability Predictor" has been accepted to IEEE Transactions on Power Systems. [

link

]

01/2016 Our patent "A composite power quality disturbances automatic identification method" ZL201310204610.9 has been granted.

01/2016 Our paper "A Two-stage Robust Power System State Estimation Method with Unknown Measurement Noise" has been accepted to IEEE PES GM 2016.

01/2016 Our paper "A robust extended Kalman filter for power system dynamic state estimation using PMU measurements" has been accepted to IEEE PES GM 2016.

12/2015 Our paper has appeared in IEEE Transactions on Smart Grid, "Forecasting-Aided Imperfect False Data Injection Attacks Against Power System Nonlinear State Estimation". [

link

]

12/2015 Our paper has appeared in IEEE Transactions on Smart Grid, "Power System Real-Time Monitoring by Using PMU-Based Robust State Estimation Method". [

link

]

11/2015 Our paper "Short-Term State Forecasting-Aided Method for Detection of Smart Grid General False Data Injection Attacks" has been accepted to IEEE Transactions on Smart Grid.[

link

]